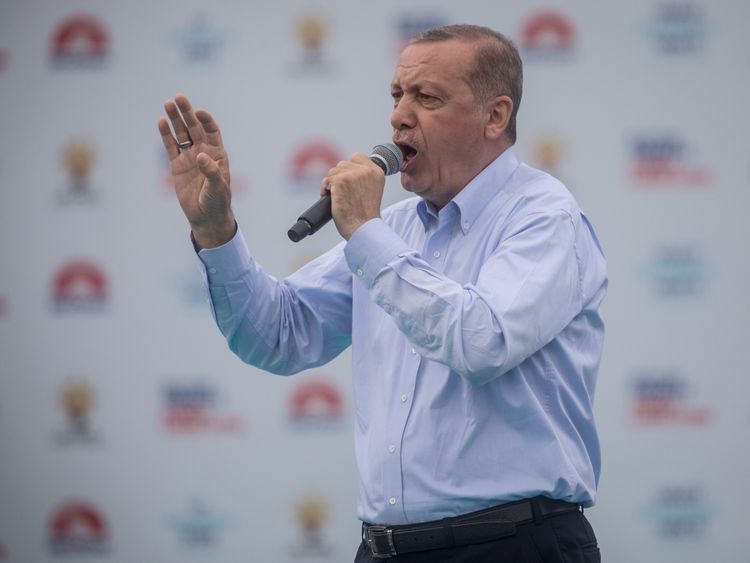 Turkish President Recep Tayyip Erdogan on Sunday declared victory in a tightly-contested presidential election, extending his 15-year grip on power in the face of a revitalised opposition.
Turkish state news agency Anadolu, the only media distributing election results, reported that the Mr Erdogan easily claimed 52.7 per cent of the vote with more than 96 per cent of the ballots counted.
Bahceli said the People's Alliance won the presidential election in the first round, leaving those expecting a crisis "bewildered".
Recep Tayyip Erdogan has declared himself the victor of a high-stakes Turkish election, as he looks to consolidate his power on a nation he has ruled for 15 years.
Turkish outgoing President and candidate Recep Tayyip Erdogan salutes party supporters during a rally on the eve of the elections in Istanbul.
A number of men, in their 60s, say that they voted for Mr Erdogan's Justice and Development Party (AKP) because "the violence in [the Kurdish-majority city] Diyarbakir in 2015 was not anywhere near as brutal as the violence the Kurds endured in the 90s".
If both the presidential and the parliamentary elections go against Erdogan, Turkey's politics, and possibly the country, could undergo significant change.
A broad coalition led by Ince is also challenging the ruling Justice and Development Party (AKP) in parliament, where the president's allies have governed for more than a decade. If the HDP manages to get into parliament, it could reduce the number of seats Erdogan's alliance will hold, threatening his parliamentary majority. One party supporter, Nejdet Erke, said he had been "waiting for this emotion" since morning.
In the parliamentary vote, with 74 percent of ballot boxes counted, Erdogan's People's Alliance, which includes his AK party and a small nationalist party, stood at 55.7 percent, while the opposition Nation Alliance grouping together nationalists, secularists and a small Islamic-leaning party, was at 32.9 percent.
Addressing thousands of supporters in Ankara, he said: "We will fight even more with the strength you provided us with this election".
A majority of 360 votes in parliament are required to take a constitutional change to referendum in the new executive presidential system. Analysts said the incumbent may also have feared a sharp slowdown in the economy expected later this year would lose him support if the elections had been held on schedule.
The operation, which began on Tuesday, targeted 124 people accused of being followers of US-based Muslim preacher Fethullah Gulen, CNN Turk said.
Turkey's worldwide TV network announced Mr Erdogan was the victor when just 91 percent of votes had been counted.
On the eve of the elections, hundreds of thousands of people packed the Maltepe shore on the Asian side of Istanbul for Ince's final speech, which followed massive rallies in Izmir, Ankara, and elsewhere.
More than more than 42.5 million people voted, a record turnout of 87.5%, according to Anadolu Agency.
Several world leaders supportive of Erdogan, including Azerbaijani President Ilham Aliyev and Qatari Emir Tamim bin Hamad Al-Thani, called to congratulate him on his "victory", the presidency said.