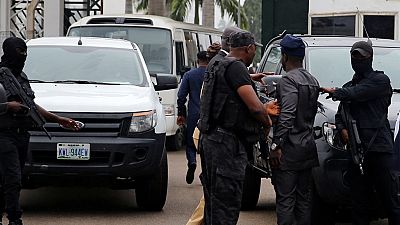 Governor Ortom had earlier today, condemned the invasion of the National Assembly by men of the Nigerian Police Force and the DSS.
Daura is however in a closed-door meeting with the Acting President, now holding at the presidential villa in Abuja.
He said the blockage of the NASS complex was a surprise to him, adding that the police would soon issue a statement on the incident.
"Obviously, like I said, I have not got a detailed brief on that".
The News Agency of Nigeria (NAN) gathered that the two security chiefs, who arrived Aso Rock at different times, were to update the acting president on security developments including the blockade of the National Assembly by security officials.
Seiyefa who replaces th sacked DG, Lawal Musa Daura, was in the villa ostensibly to receive briefing from the Acting President.
He maintained that the "unlawful act which was done without the knowledge of the Presidency is condemnable and completely unacceptable". The siege was lifted about an hour after the DG was sacked from office.
Afterwards, lawmakers were allowed into the complex, but staff and journalists were still barred.
That move appeared to have been abandoned following public outcry. But it turned out there was nothing like that in the offing as no APC senator was in the National Assembly when they were creating the row outside the gate.