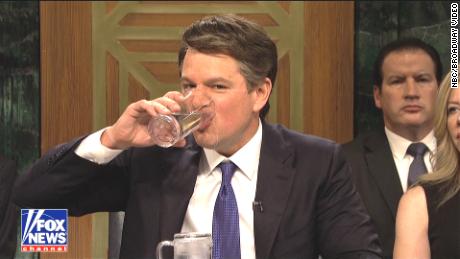 Kicking off its 44th season last night, the cast of Saturday Night Live welcomed Matt Damon to the set as they re-enacted Thurday's Kavanaugh-Ford hearing, sans Christine Blasey Ford.
In the skit, Kavanaugh, played by special guest Matt Damon, is testifying about the evidence of his innocence and brings up how embarrassed he is to talk about this in front of the the Charmed alum. Damon said as he sniffled and poured water all over himself during the over 13-minute sketch. Damon as Kavanaugh shouted, calling the proceedings a "political con job" orchestrated by Hillary Clinton, George Soros, Kathy Griffin, and Mr. Ronan "Sinatra" (it's been rumored that Frank Sinatra is Ronan Farrow's biological father).
The sketch portrayed the judge as a combative, "keg is half-full kind of guy", and used the nominee's preference for beer as a running gag throughout.
"I got these calendars", he said weepily, "these lovely, creepy calendars".
The "Jason Bourne" actor didn't hold back as the cold open touched on everything from Kavanaugh's repeated statements of liking beer to sharing and discussing his personal calendar from the '80s and yearbook entries. "These attractive, creepy calendars", he added, citing pages that were published in the USA Today showing his schedule from 1982.
"I don't know the meaning of the word stop", he said in another line.
Sheldon Whitehouse (Pete Davidson) were all represented.
SNL's Kate McKinnon, yet again taking on a southern conservative, took on a fired up Sen. Aidy Bryant played prosecutor Rachel Mitchell and was constantly cut off by the committee.
"Can I just ask, is Alyssa Milano behind me?"
"I was the proudest, drunkest virgin you've ever seen", Damon said at one point.
"If you think I'm angry now just wait until I get on that Supreme Court because then you're all going to pay", he said before shotgunning a beer.