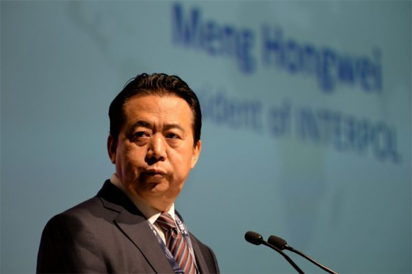 Interpol, which is based in Lyon, said on Friday that it was aware of reports of Meng's "alleged disappearance and that the issue was a matter for the relevant authorities in France and China".
Interpol president Meng Hongwei has been detained in China for questioning as part of an investigation against him, a media report said Saturday, a day after he was reported missing in his native country.
Police in Lyon, the French city in which Interpol is based, had earlier launched their own investigation into Meng's disappearance after his wife reported him missing. Officials under suspicion often disappear into the party's investigatory body, which can hold them for months without releasing information or providing them with legal counsel.
Meng Hongwei, Interpol's president, boarded a plane and arrived in China, according to a French judicial official.
Neither China's public security ministry nor its foreign ministry have replied to queries about the president. Besides that, he also served as the Vice-chairman of the national narcotics control commission and also is a senior Communist Party official in China.
'France is puzzled about the situation of Interpol's president and concerned about the threats made to his wife, ' the ministry said, adding that it was in contact with China.
The police agency, which links forces from its 192 member states, is unlikely to be affected by the disappearance, with the secretary general largely responsible for day-to-day operations.
Roderic Broadhurst, a professor of criminology at Australian National University, said Meng's disappearance was "bizarre" and would be "pretty disconcerting" for people in global bodies that work with China, and could ultimately damage China's efforts to develop cooperative legal assistance measures with other countries.
Hong Kong's South China Morning Post quoted an unnamed source as saying Meng had been taken for questioning as soon as he landed in China, but it was not clear why.
As of yet there is no indication as to why Meng would be under investigation by authorities in Beijing. Also, at one time, China prized Mr Meng's lofty position at Interpol.
Meng rose up the ranks of the country's domestic security apparatus when it was under the leadership of Zhou Yongkang, a rival to Xi and the highest-ranking official to be brought down on corruption charges.
The France-based worldwide police body said it was looking forward to an official response from authorities regarding Meng Hongwei, 64. Only at the behest of a country does the information go public via a "red notice", the closest thing to an worldwide arrest warrant. The official in question suddenly drops out of the public eye and an alarm is raised that the person is "missing", usually by members of the public.