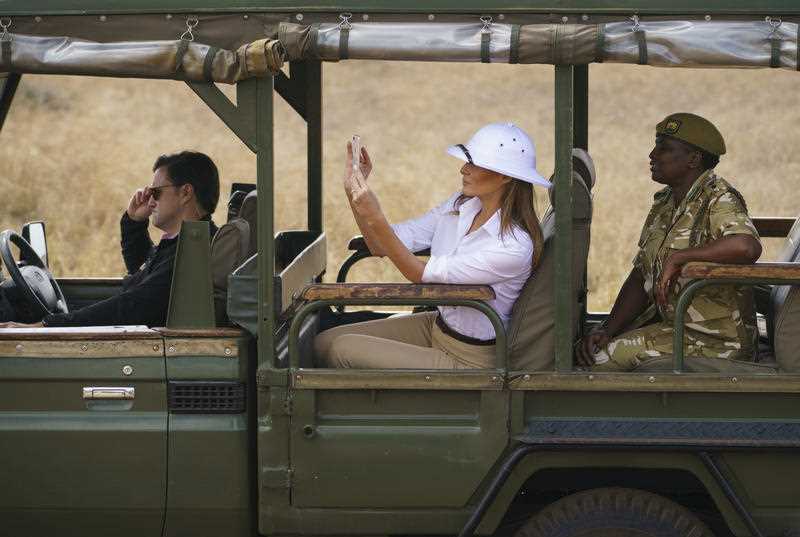 US First Lady Melania Trump has found herself in the middle of yet another controversy related to her attire. "I wish people would focus on what I do, not what I wear". Asked about the #MeToo movement and the Supreme Court nominee Brett Kavanaugh, she delivered what appeared to be a rehearsed response: She said she was glad both he and his accuser - a woman whose account Donald Trump publicly mocked - had been heard.
On Friday, Ms Trump was told she had made a "silly sartorial choice" by wearing a pith helmet while on safari in Kenya. It was her first major solo trip overseas and a rare example of a time when she has answered questions by reporters on a variety of topics.
"Have you ever told him to put his phone down?", asked one reporter.
While there, she also received a briefing about USAID's Water Table Reduction Project at the base of the Sphinx, according to the statement.
While she generously dished out warm smiles and happy waves, the first lady also used her four-nation tour of Africa to draw some firmer boundaries between her own views and those of her husband the president. And she says she doesn't always agree with what he tweets.
"Colonizer outfit! What was she bloody thinking, showing up in Africa in this outfit". The people love her, and she loves them! While the president has notably in the past referred to African nations as part of a collection of "shithole countries", he struck a markedly different tone at the United Nations general assembly in NY last month, before Melania's departure. She highlighted the work the US foreign aid agency is doing on the continent, as well as of her child-focused "Be Best" platform.
Following her visit to the orphanage and national park in Nairobi, Trump had tea with Kenyan First Lady Margaret Kenyatta. The outfit was topped with a white Panama-style straw hat from the French fashion house of Chanel.
One Twitter user suggested Melania has drawn more attention to what she "doesn't do" than what she does.
US First Lady Melania Trump (L) is welcomed by Egyptian President Abdel Fattah al-Sisi (C) and his wife Intissar Amer (R) upon arrival at the Presidential palace in the Egyptian capital Cairo.
During her trip, the first lady's focus has been on humanitarian efforts, specifically those funded by United States government aid, and those that work to better the lives of children.