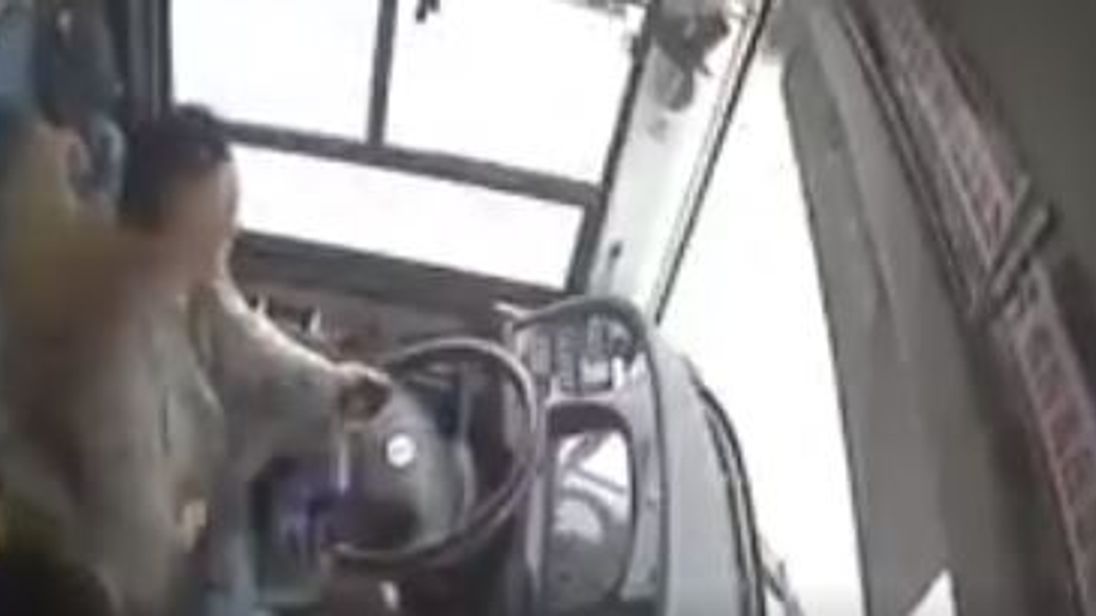 The video shows the driver and the passenger attacking each other as the vehicle turns into the opposite lane, hits the guardrail and falls off a bridge over the Yangtze River and into the water.
Then, as he tries to regain control of the bus he swerves off the bridge, sending the bus plummeting 60 metres into the Yangtze river in the Wanzhou District of China's sprawling Chongqing city.
But the new footage shows the driver was being hit by a passenger and then struck her back. China's state newspaper, People's Daily, reports 15 people died in the crash. The footage shows the fight between the driver and the woman.
Another said that the driver was to blame because he "deliberately turned the wheel to the left".
Four passengers, who got off earlier, confirmed that a medium-height woman had quarrelled with the driver because she missed her stop, local police said.
In this file photo taken on November 1, 2018, a crane salvages the wreckage of a bus after it plunged off a bridge into the Yangtze River in China's southwestern Chongqing.
Police also posted dashcam video from a nearby auto showing the bus colliding with an oncoming vehicle before smashing through a guardrail and falling into the Yangtze. The driver, with one hand on the wheel, hits back. A total of 13 bodies were retrieved and identified by Thursday, while two others remain missing.
Police divers recovered the bus surveillance camera on Wednesday.
A police statement said a female passenger started quarrelling with the driver after she missed her stop.
Another said it was "heartbreaking" to hear the terrified passengers, while a Weibo user called Liza said there should be a law banning passengers from distracting bus drivers.