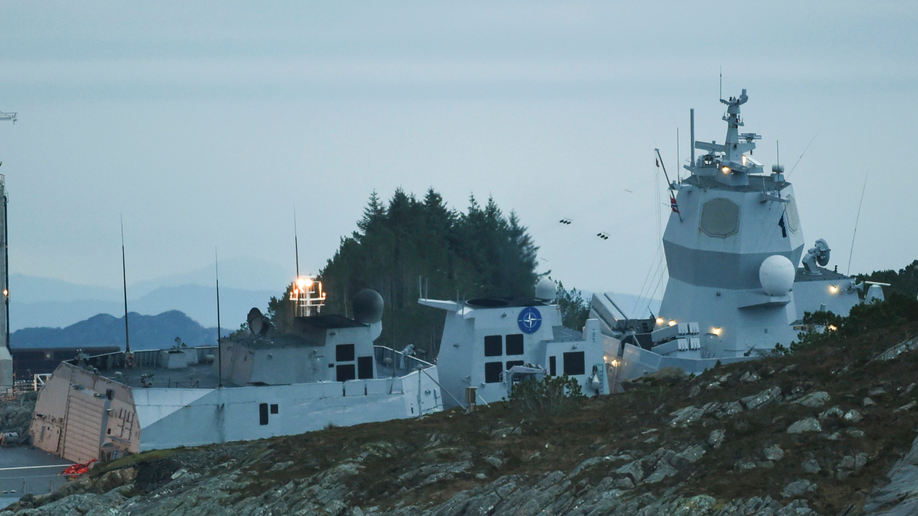 One Norwegian news outlet reports that according to tracking data, the frigate's geolocation system was turned off at the time of the collision, noting, however, that the armed forces of Norway have neither confirmed nor denied that.
A Norwegian navy frigate and a Maltese oil tanker collided in a fjord in western Norway on Thursday, local authorities said, with seven people receiving minor injuries.
The Norwegian frigate KNM %3CI%3EHelge Ingstad%3C/I%3E takes on water after a collision with the Maltese-flagged tanker %3CI%3ESola TS%3C/I%3E on 8 November 2018 in the Hjeltefjord near Bergen, Norway. Eight injured crew members were taken off as well as the other 129 on board.
Tanker said not to suffer serious damages, as of 0530 UTC she was near collision site, moving in northern direction at dead slow speed, escorted by tug.
The Malta-registered Sola TS tanker sustained only slight damage, Aftenposten newspaper reported.
HNoMS Helge Ingstad was taking part in the NATO Trident Juncture exercises. Adm. Nils Andreas Stensoenes, the head of the Royal Norwegian Navy, said Thursday during a news conference.
The Sture oil terminal, which has about 6 million barrels of underground oil storage capacity, is the receiving terminal for Oseberg Blend (105,000 bpd impacted) and Grane Blend (260,000 bpd impacted). There were fears it would sink as it took on water after the crash but it ran aground just off the shore near Bergen.
According to the Norwegian Coastal Administration, a 10-cubic metre helicopter fuel tank on the frigate was ruptured. He declined to comment on what would happen to the weapons on board the ship. While photos show a grayish slick of diesel oil coming from the Ingstad, there are no reports of the Sola leaking any crude oil.
Norway's Accident Investigation Board has launched an investigation into the collision, which also involved a tugboat.