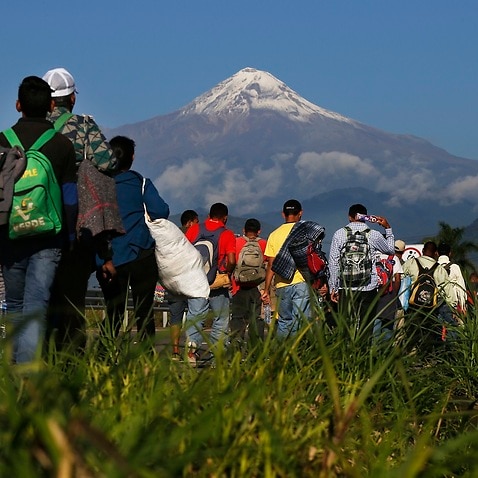 CBP has not named the boy, but US Rep. Joaquin Castro identified him as Felipe Alonzo-Gomez. He died just before midnight.
"This tragedy, the death of a child in government custody is deeply concerning and heartbreaking", Nielsen wrote in a statement on Wednesday. "We're doing dozens of hospital trips every single day with children that have fevers or manifest other medical conditions". Doctors eventually discharged him with prescriptions for amoxicillin and Ibuprofen. After the boy began to vomit and had a fever, he was taken back to the hospital in the evening, where he died just before midnight on December 24. Just 12 minutes before Christmas Day, and after 155 hours in USA custody, Felipe died, becoming the second child to die in U.S. custody this month. There's no doubt that the death of a child in US custody at any time is cause for concern and that two deaths raise the possibility that there is a problem that needs to be addressed.
Felipe was eager to go, an older stepsister who also lived with them said in a phone interview Thursday.
In the wake of the boy's death, McAleenan announced a series of moves on Tuesday night.
Border Patrol said this week that agents would conduct medical checks on all illegal children following the deaths. "We need to budget for medical care and mental health care for children in our facilities", he told CBS News. She noted it had been more than 10 years since a child has died in the agency's custody.
Because of the death of Felipe and another young girl earlier this month, there are now calls from Democrats for a broad congressional investigation.
The boy's mother, 31-year-old Catarina Alonzo Perez, said she spoke with her son the day before they arrived at the USA border.
Guatemala's Foreign Ministry in a statement Tuesday also asked for an investigation and access to the boy's medical records.
CBP said it apprehended Felipe and his father on December 18 about five kilometres away from an official port of entry, the Paso del Norte bridge connecting El Paso, Texas, and Juarez, Mexico. According to human rights activists, the girl died from septic shock, fever and dehydration.
CBP said the cause of Felipe's death is not yet known.
Apparently the most recent child to die did receive an initial medical screening. Holding conditions for illegal immigrants caught trying to cross the border into the United States have been under increasing scrutiny in recent weeks, dating back to the death of a 7-year-old girl who died in USA custody after the 2,000 mile journey from Central America.
The autopsy of eight-year-old Felipe Gomez-Alonzo, a Guatemalan boy who died in US custody on Christmas Eve, revealed that he had the flu at the time of his death.
Her remains will be transported to the remote indigenous community of Raxruha where she was from.
Her death marked another flashpoint in the debate over the White House's hard-line approach to immigration enforcement, with many - including Jakelin's family - wondering if better medical care may have saved her. US agents say Caal had little to eat or drink before arriving at the border, a claim the father denies.
It had been more than a decade since a child died in CBP custody, she added.